Vikingskipet "Gaia" - kopi av Gokstadskipet
"Gaia" - a full scale replica of the Gokstad viking ship
Sjøsettingen av Gaia i 1990. My video of the sea launch of Gaia in 1990.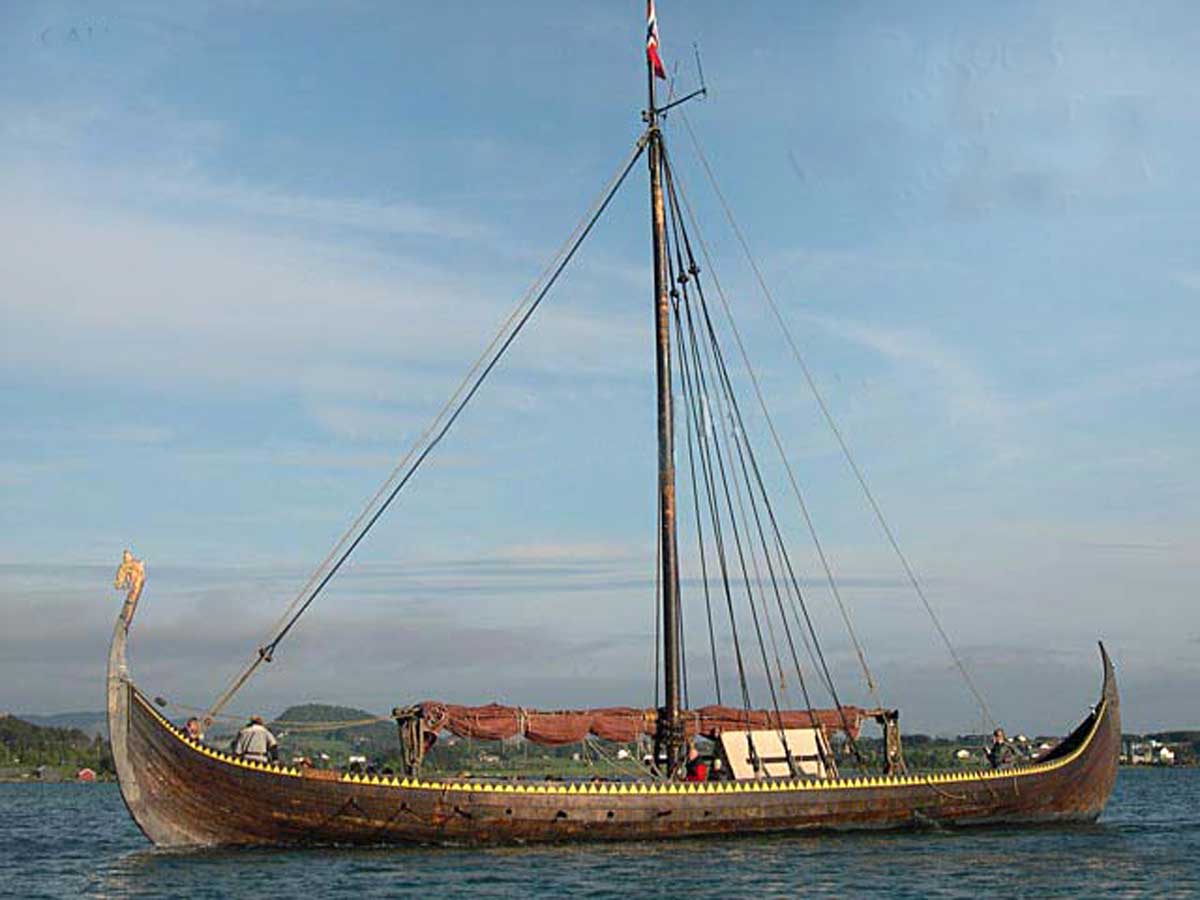 Gaia i Hafrsfjord under Hafrsfjordspillene i 2006. Gaia in Hafrsfjord, Stavanger in june 2006.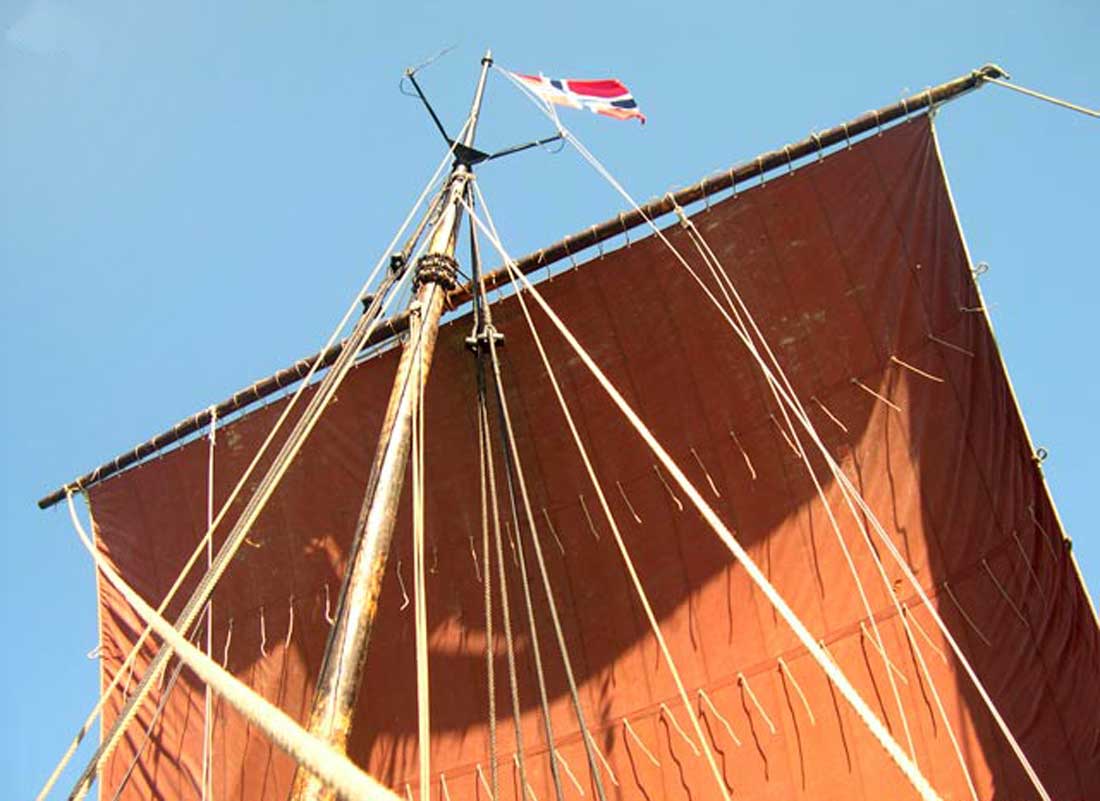 Råseilet og masten til Gaia. Riggen er tung å dra opp. I tørr tilstand veier rå og seil nesten 400 kg. Vått enda mer.
The square sail and yard of Gaia. The sail and yard weighs about 350 - 400 kg in dry condition, so raising it is hard work!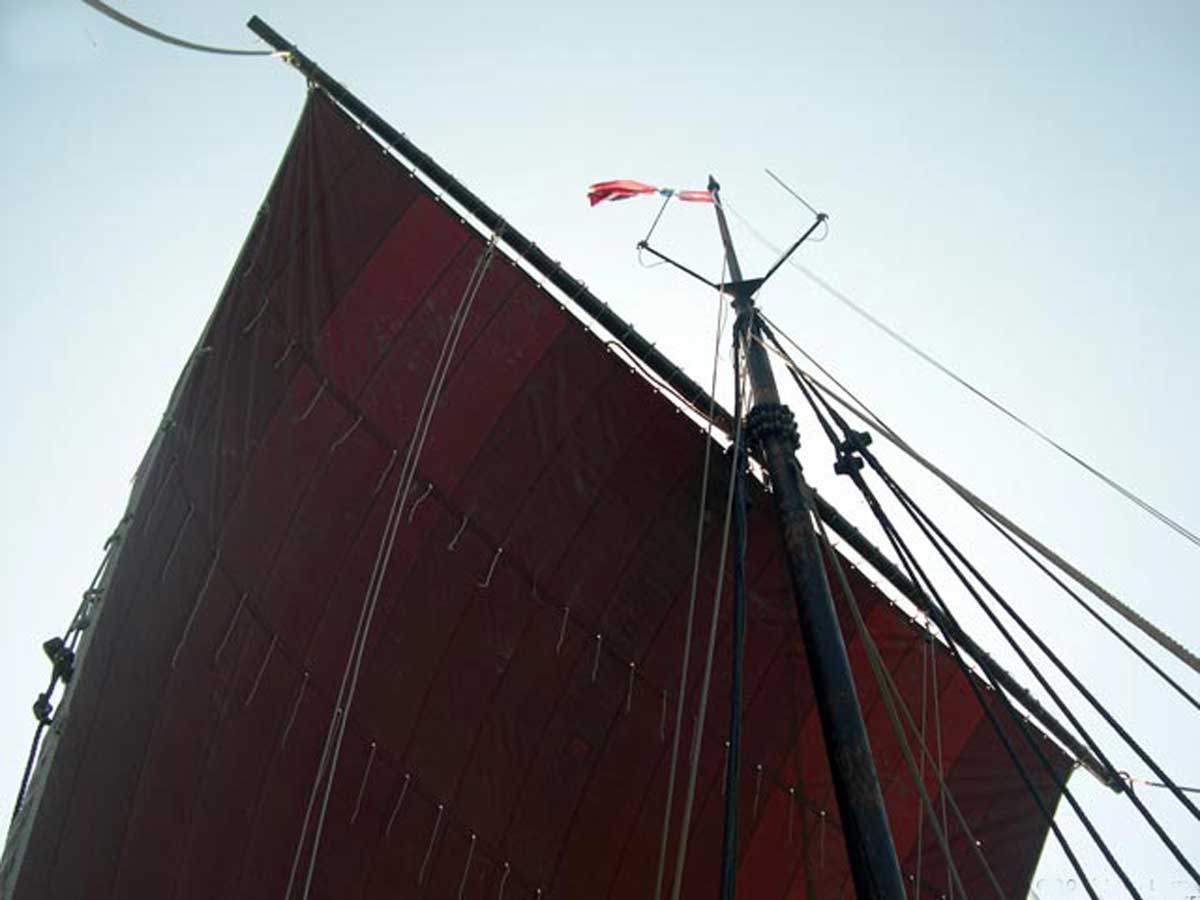 Gaia går her for bidevind, dvs krysser mot vinden med vindretning mot styrbord halser. Merk retningen på vimpelen i mastetoppen! Like etterpå stagvendte hun, dvs krysset opp mot vinden. Dette har forskere og akademikere dessverre sagt i flere tiår skal være umulig med råseil, men en rekke praktikere både i Norge og Danmark har gang på gang vist at dette er fullt mulig.
Gaia tacking, in other words sailing against the wind direction.Note the position of the flag at the top! A little later she turned against the wind. Unfortunatley have several researchers for decades claimed that such maneuvers are impossible with viking ships with square sails. But a lot of sailers both in Norway and Denmark have proven that this is possible if the ship is correctly rigged and the crew are well coordinated.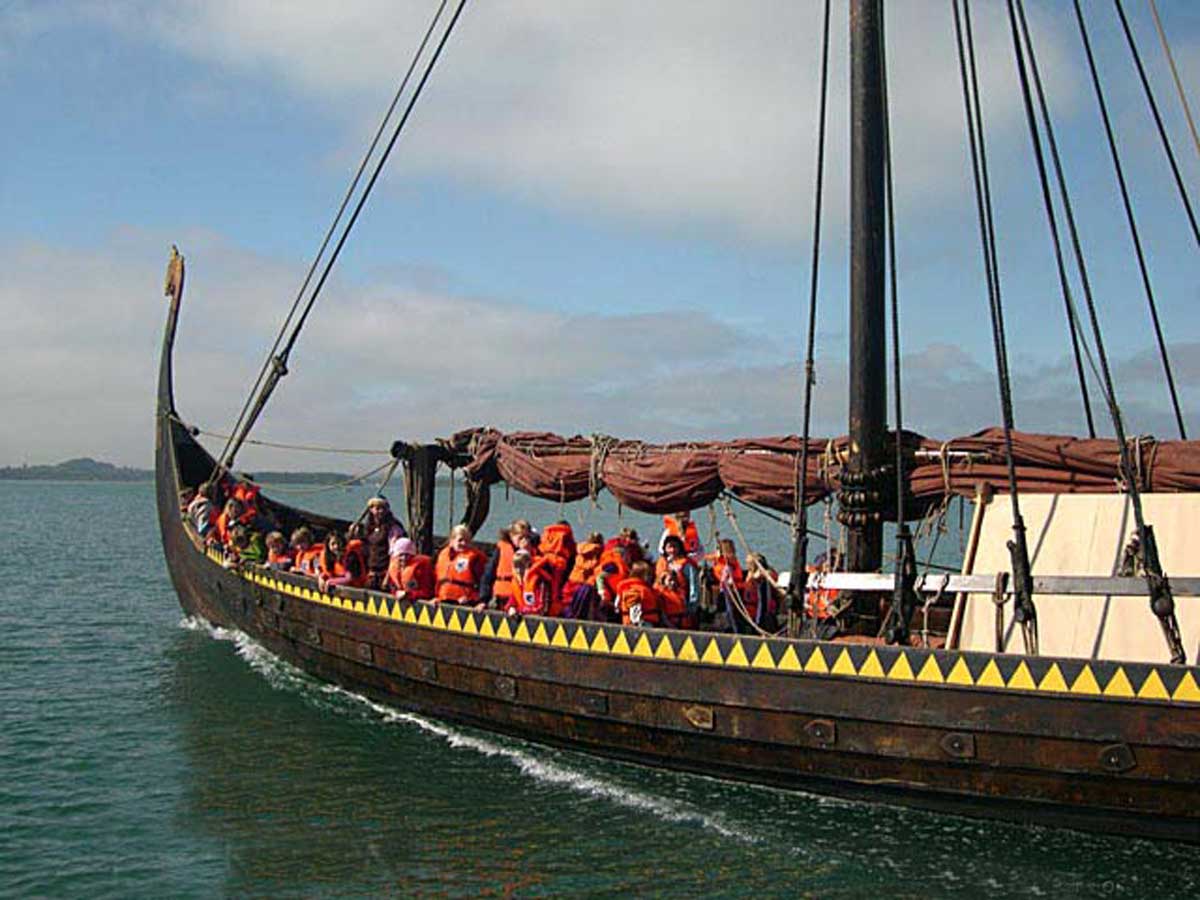 Gaia gikk ut med skolebarn fra Stavanger som en del av arrangementet under Hafrsfjordspillene i 2006. For mange var dette deres først opplevelse med vikingskip noensinne.
During the Hafrsfjordspillene in 2006 Gaia was used to give kids from several elementary schools in Stavanger a first-hand experience with viking ships in the historic Hafrsfjord area
Interiøret i "Gaia". I bakgrunnen Jakobsgarden på Bjørkedalen der "Gaia" ble bygd.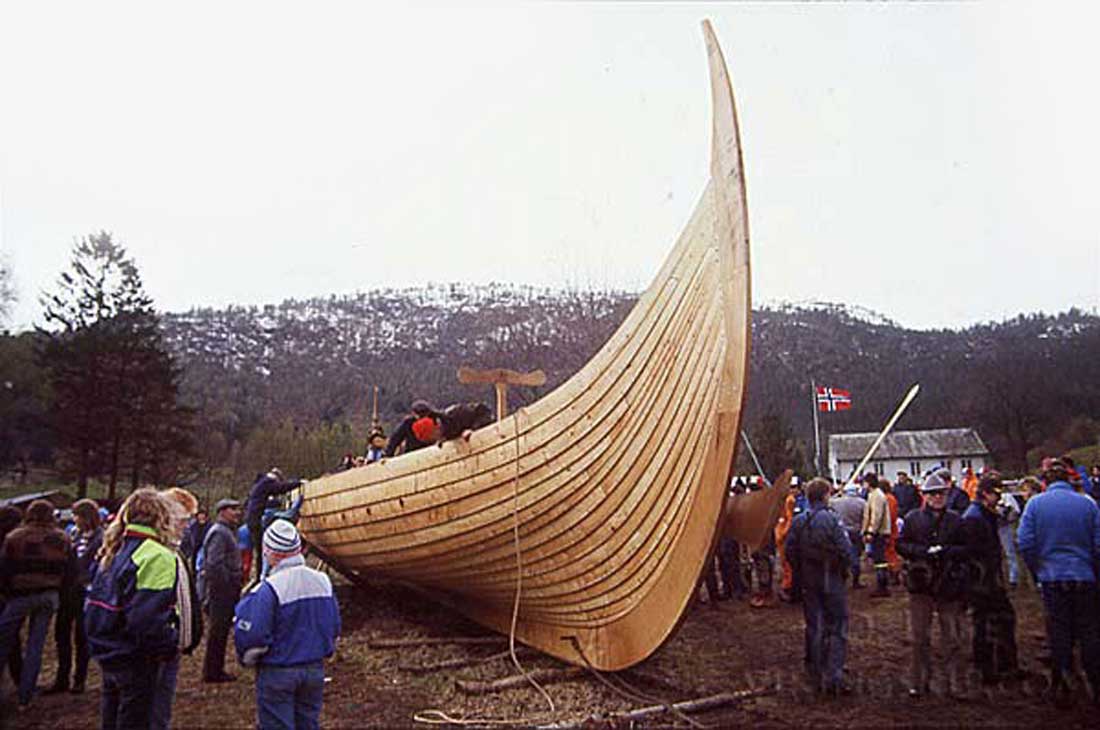 "Gaia" ble sjøsatt på Bjørkedalen i Norge den 28. april 1990.
"Gaia" during the sea launch in Bjørkedalen, Norway, April 28. 1990.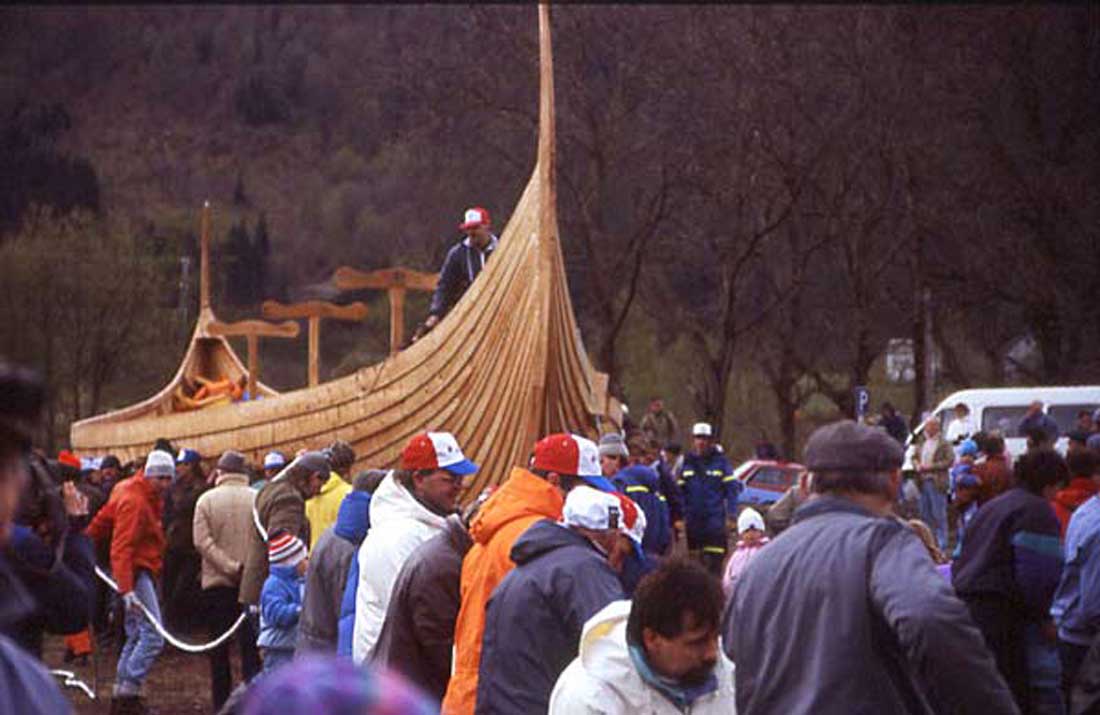 Båtdraging på gammelt vis med håndemakt mens båten glir over stokkene.
The 24 m long viking ship replica was hauled manually just as the vikings did.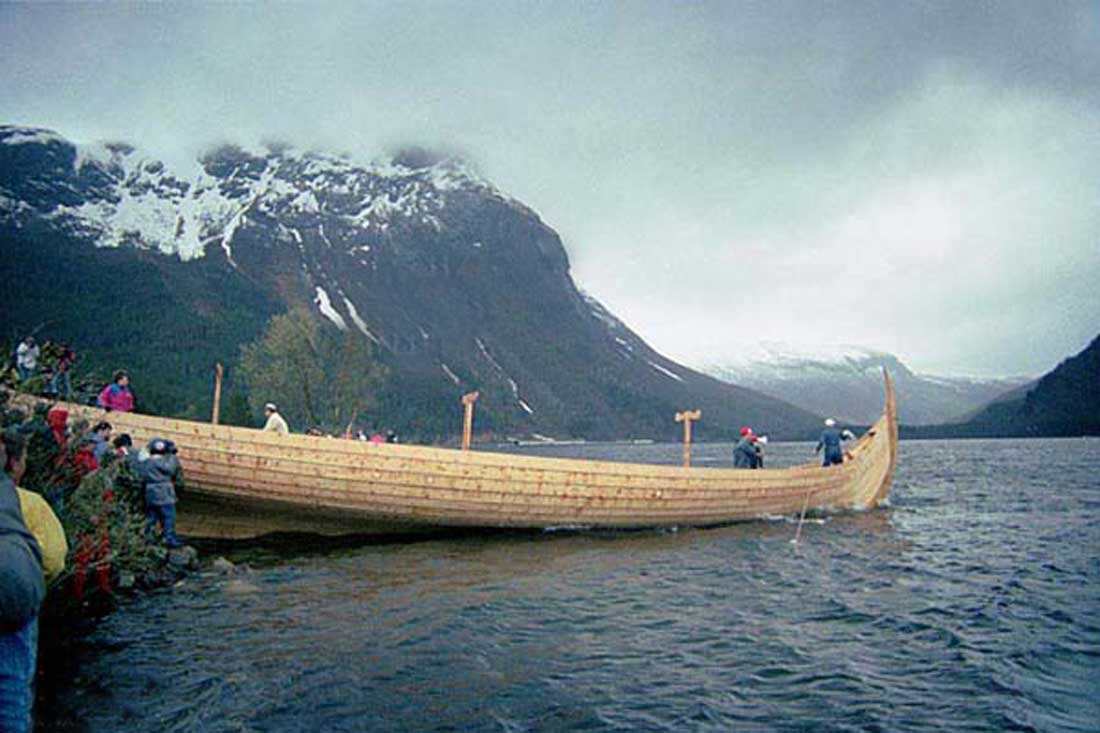 Gaia får vann under kjølen for første gang. Gaia enters the lake in Bjørkedalen.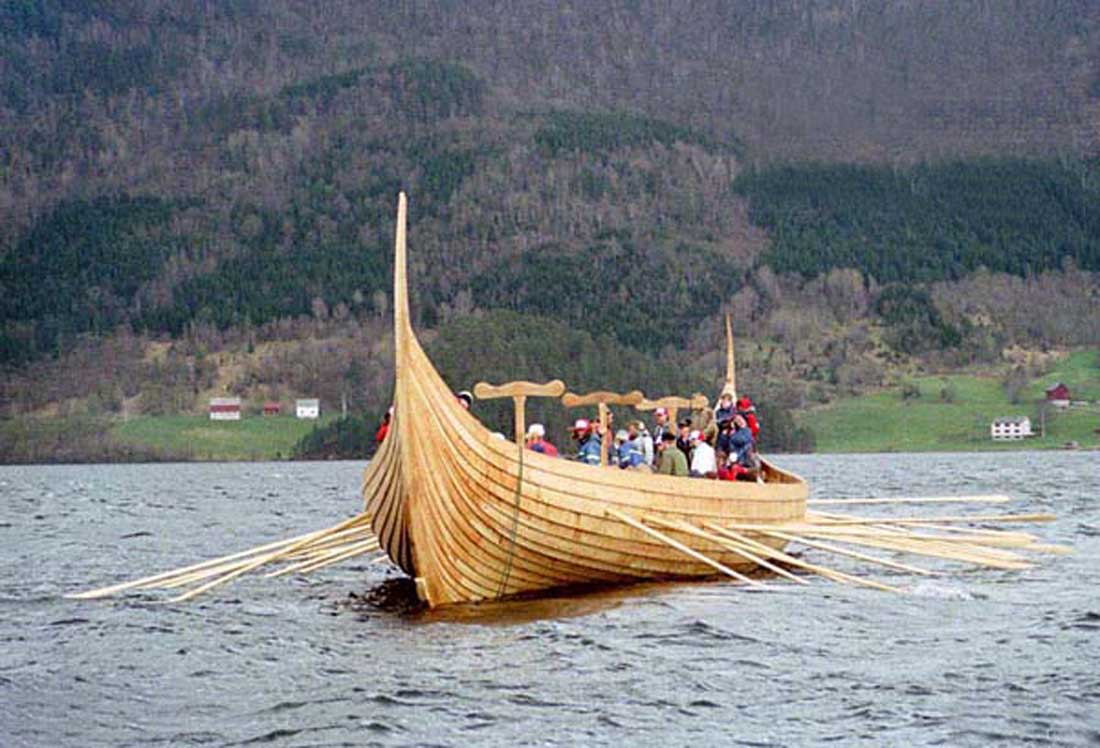 De første åretakene i Gaia på Bjørkedalsvatnet. Skroget er lett og tørt, uten ballast. Vindfanget er betydelig.
The proud Gokstad replica is rowed for the first time.
Gaia - a Gokstad ship replica
"Gaia" is a full scale replica of the 24 m long Gokstad ship. It was sealaunched in Bjørkedalen April 28. 1990. The shipbuilder was Sigrud Bjørkedal and his sons Jakob, Ottar and Dag Inge.
A few years later the norwegian adventurer Ragnar Thorset crossed the North-Atlantic Ocean with it.
Gokstadkopien Gaia
Båtdraging på Søre Bjørkedalen 28. april 1990. Båten er ein fullskala kopi av det 24 m lange Gokstadskipet, og vart bygd av Sigurd Bjørkedal og sønene hans. Kopien er svært nær originalen og gjort så autentisk som mulig innen for et trangt budsjett. Bordgangene er saget, men med pålimte surringsklamper. Skroget er i furu, med kjøl og stavner av eik.
Oppdragsgjevar var Ragnar Thorset. Han seilte senere over Atlanteren til USA med "Gaia".
Красавчик Леня знатный жених! Дмитрий Нагиев...
****